a single source supplying
both products and concepts
for the Private Label sector
Our Company
Our products provide reliable, hygienic cleaning and freshness, which is why our proven cleaning and household care products are the first choice for millions of private households and businesses in Germany and across the globe. ORO was established in 1978 as a trading company for household chemical products. Over 40 years, we have cemented our position as a leading provider of household cleaning and care products, bathroom and WC-cleaners, dishwashing and laundry products, limescale removers, laundry additives and air fresheners.
We specialise in Private Label goods and develop products for a number of well-known trading and industrial companies. Our group manufacturing operations handle all aspects of the production with expertise and capacity to manufacture products in powder, granule, tablet or liquid form. We are continually improving and expanding our range, at all times focusing on our customers' wishes. Our sophisticated logistics system means we can guarantee just-in-time delivery. Where necessary, we can also supply our own "ORO frisch-aktiv" branded products to our customers.
our mission statement
our values
Our development approach incorporates environmental and societal considerations.
Sustainability is important to us.
We treat one another with respect and take a constructive approach.
We encourage the continued professional development of all employees.
We act in a socially responsible manner and ensure good working conditions across all divisions.
Our success is attributable to all of our employees.
Our responsible economic approach secures our future.
our guiding principles
We are a reliable partner for our customers across the globe.
We develop innovative product ideas for, and with, our customers.
We manufacture high-quality products based on our longstanding experience.
Our focus is on premium products for niche markets.
We act quickly and flexibly in a chain organisation.
Our strength lies in the variety of solutions and services available within our corporate group.
our group
The companies within our group develop and produce detergents and cleaning products as well as air fresheners. Within our organization we employ more than 200 people at the locations Herrenberg and Lemgo (Germany), Chur (Switzerland) and Istanbul (Turkey).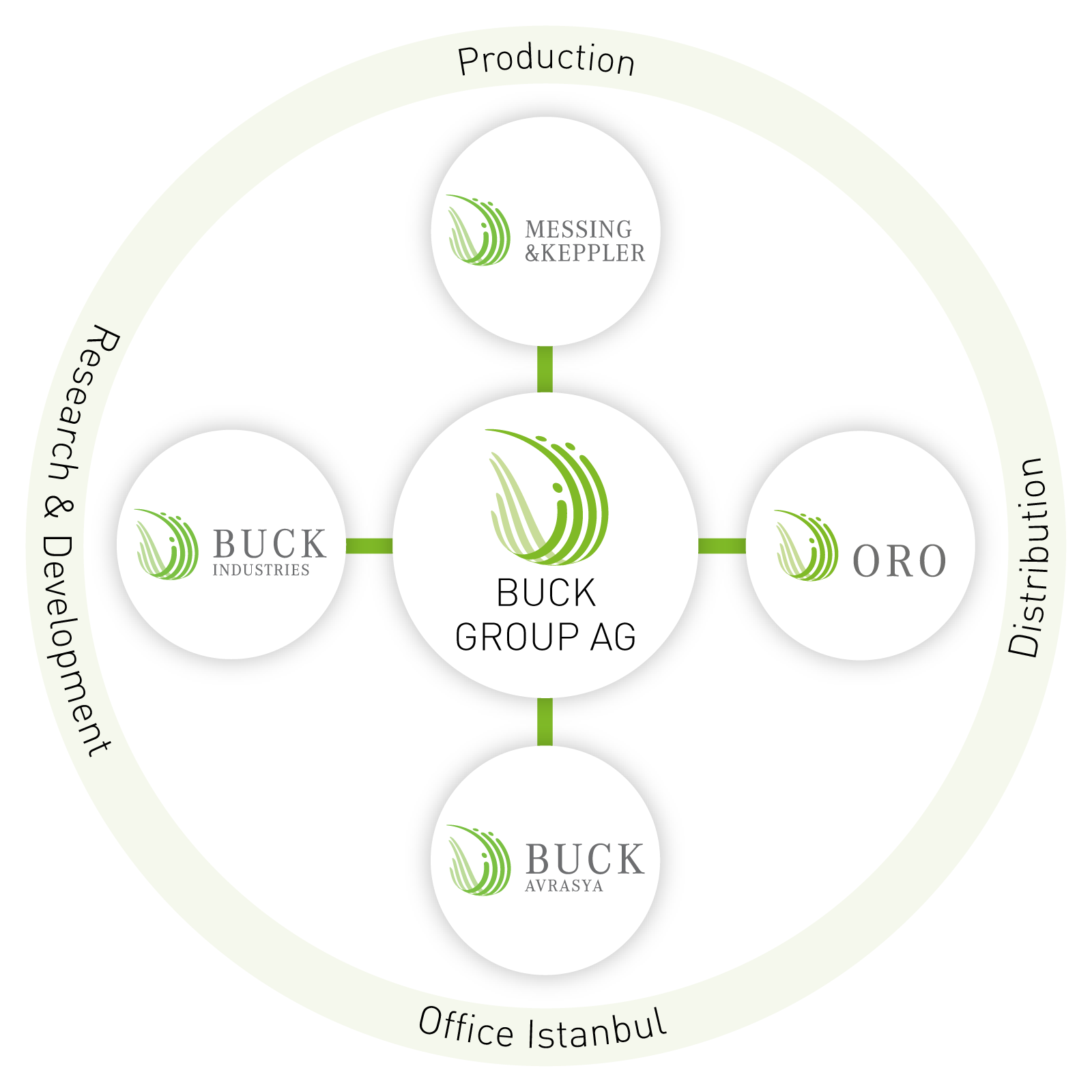 Our services
We have far-reaching and longstanding experience in product development. We work with a small team of skilled staff and use short decision-making processes that allow us to remain flexible and responsive. Our In-House Design Department ensures the necessary background and updates the content and design image to suit the products. This means that within just a short space of time, we can not only devise new formulas, but also devise creative solutions that encompass all aspects of production, sales and marketing. This effective organisation means we can help our customers to market a wealth of products in Germany and worldwide, at all times ensuring reliably high product quality, based on the principle of "Products and Concepts from a Single Source".
On request, we can even take care of all the necessary official notices, as well as the correct classification and labelling of the Products in compliance with chemicals and biocide legislation, and prepare safety data sheets in accordance with the REACH regulation.
Be it collection or delivery – with the support of renowned logistics providers we can handle the full range of logistical requirements.
ORO frisch-aktiv
The ORO frisch-aktiv brand is synonymous with hygienic household cleaning. The brand encompasses a wide selection of household cleaning products from household cleaners and care products to dishwasher detergents and laundry additives. We have also extended our product range to include air fresheners, which are the perfect complement to our core range of cleaning products. We endeavour at all times to continue improving our products to better meet the needs of our customers.
Our Products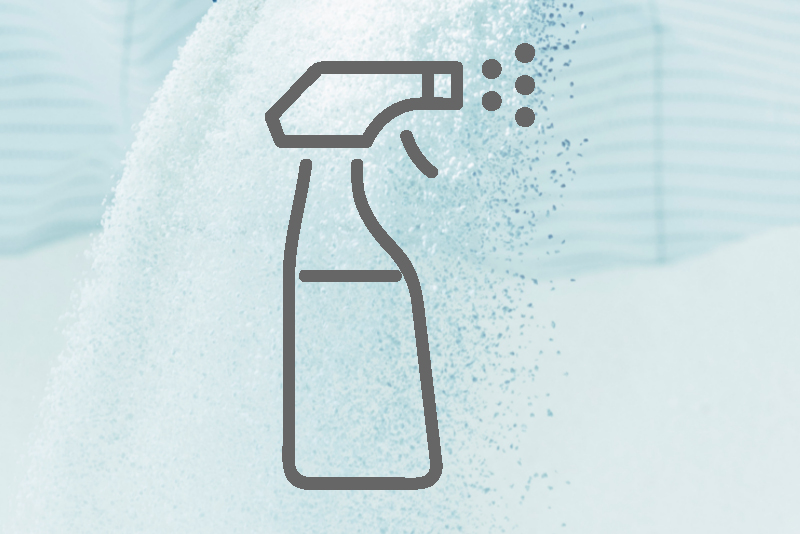 Household cleaning and care products
Different surfaces require different cleaning methods and care. We offer a wide range of different cleaning products designed specifically for certain surfaces. In addition, we have a number of different limescale removal solutions for household appliances. Regular use of descalants can help prolong the useful life of such products.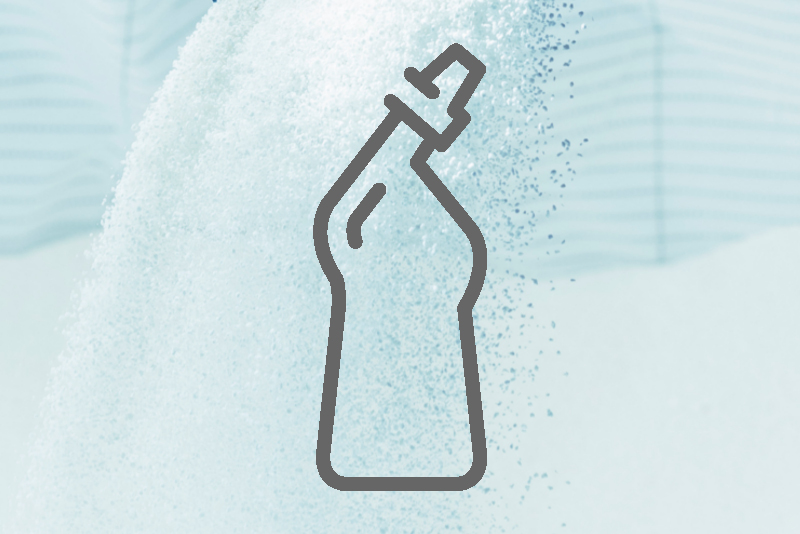 Bathroom and WC-cleaners
Our bathroom and WC-cleaners easily and effectively remove dirt and grime for a sparkling clean and shiny bathroom with scented WC-products to leave your WC smelling fresh.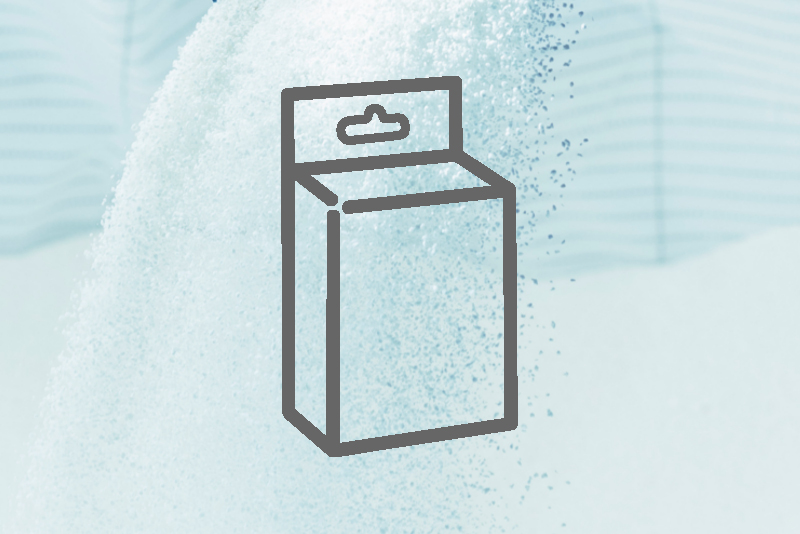 Detergents and washing additives
Regular limescale removal and washing machine cleaning is essential to ensure appliances continue to work for many years. Our product range includes various descalants for washing machines. We also offer a number of different stain removers, as well as laundry pearls for laundry that smells fresher, for longer.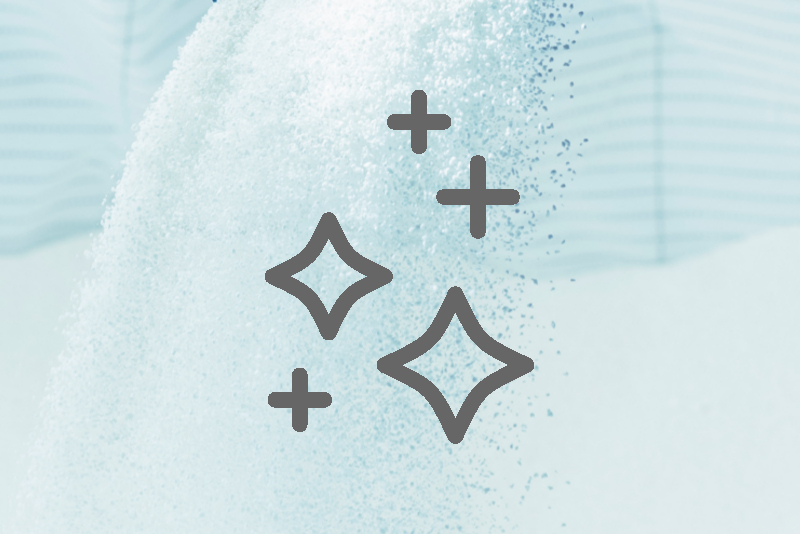 Air fresheners
Our air fresheners distribute a pleasant scent throughout your home. The practical and sophisticated design makes them the perfect decorative accessory while the scents help to counteract unpleasant odours.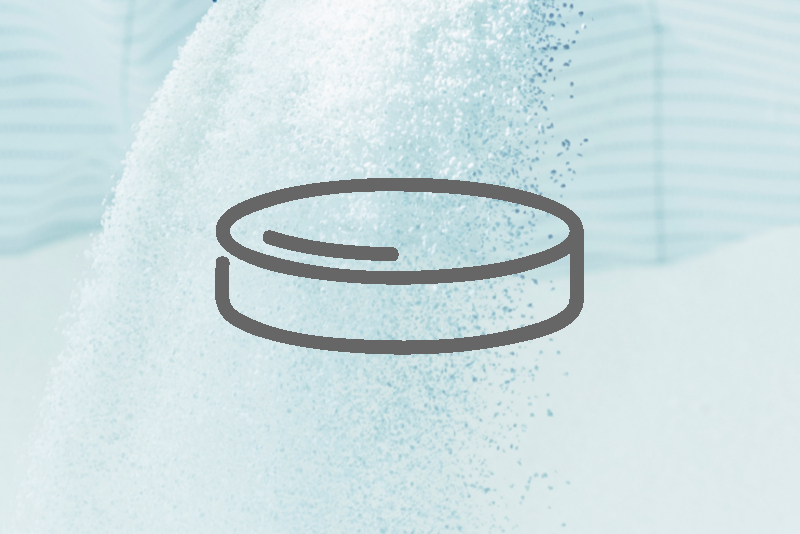 Dishwasher detergents
We provide a wide range of dishwasher products. In addition to various detergent tabs, our product range also includes supplementary products, such as dishwasher salt and rinsing agents, as well as special machine cleaners. The combination of these products is highly effective in ensuring a hygienically clean, well-functioning appliance.
Retailer Login & Data Sheets
Ingredients Acc. Detergent's Regulation
Here you can check information about the ingredients of our detergent products. (Acc. detergent's regulation 648/2004/EC Annex VII D.)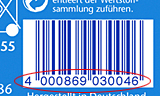 Just do it this way: Easily type in completely the figures underneath the barcode of the package, 8 or 13 digits (see sample picture), into the text field. The optional recipe number (RN) can be found in addition to EAN on the product label.
Quality and Sustainability
High standards
We measure our performance by the satisfaction and success of our customers. Thus, our goal is to continuously improve our quality standards together with our suppliers. The certification of our production sites is testament to the high quality of our products. Both ORO and its suppliers are part of the voluntary sustainable washing and cleaning initiative. Sustainability is based on the principle of balance between ecology, economy and social responsibility. We at all times endeavour with the help of our suppliers to reconcile these aspects.
certified quality
Our production facilities meet the highest quality standards. We manufacture in Germany pursuant to German environmental and product safety standards. In addition, our production sites are certified to A.I.S.E. standards (voluntary obligation "sustainable washing and cleaning"), DIN EN ISO 9001 (quality management), DIN EN ISO 14001 (environmental management). Furthermore, the majority of our suppliers are certified pursuant to DIN EN ISO 50001 (energy management) and IFS HPC.
Your Carreer
Read on to find information about all of the positions currently available at BUCK Group AG. Please click to find out more!
Vacancies at BUCK Group AG
Messing & Keppler (Lemgo / Bielefeld area)
Contact
Distribution
ORO-Produkte Marketing
International GmbH
Im Hengstfeld 47
D-32657 Lemgo
Phone: +49 5261 28893-0
Fax: +49 5261 28893-48
info [at] oro-marketing.de
oro-marketing.de
Legal notice / Desclaimer
ORO-Produkte Marketing International GmbH
Im Hengstfeld 47
D-32657 Lemgo
Phone: +49 5261 28893-0
Managing Director: Thomas Schmitz
Commercial Registery: Local Court Lemgo B 7389
VAT ID: DE125353325
Responsible for the content:
Thomas Schmitz
info [at] oro-marketing.de
Concept: finkdifferent.de
Photos: ORO-Produkte Marketing International GmbH, fotolia
Implementation: cialog.com
Disclaimer
While the information provided by ORO-Produkte Marketing International GmbH is created and compiled with the greatest of care, errors cannot be entirely excluded. We shall not be liable for damage caused by the use of erroneous or incomplete information, unless malicious intent or gross negligence can be proven.
We review the contents of all linked websites. To our knowledge, these websites do not contain any illegal, morally questionable or defamatory content. However, as we are unable to constantly review new content, we hereby expressly distance ourselves from any and all content that was subsequently amended or added to the linked sites.
Copyright
All content on this website is subject to copyright. The use hereof for commercial or other purposes is subject to the approval of ORO-Produkte Marketing International GmbH.
Privacy Policy
1. An overview of data protection
General information
The following information will provide you with an easy to navigate overview of what will happen with your personal data when you visit this website. The term "personal data" comprises all data that can be used to personally identify you. For detailed information about the subject matter of data protection, please consult our Data Protection Declaration, which we have included beneath this copy.
Data recording on this website
Who is the responsible party for the recording of data on this website (i.e., the "controller")?
The data on this website is processed by the operator of the website, whose contact information is available under section "Information about the responsible party (referred to as the "controller" in the GDPR)" in this Privacy Policy.
How do we record your data?
We collect your data as a result of your sharing of your data with us. This may, for instance be information you enter into our contact form.
Other data shall be recorded by our IT systems automatically or after you consent to its recording during your website visit. This data comprises primarily technical information (e.g., web browser, operating system, or time the site was accessed). This information is recorded automatically when you access this website.
What are the purposes we use your data for?
A portion of the information is generated to guarantee the error free provision of the website. Other data may be used to analyze your user patterns.
What rights do you have as far as your information is concerned?
You have the right to receive information about the source, recipients, and purposes of your archived personal data at any time without having to pay a fee for such disclosures. You also have the right to demand that your data are rectified or eradicated. If you have consented to data processing, you have the option to revoke this consent at any time, which shall affect all future data processing. Moreover, you have the right to demand that the processing of your data be restricted under certain circumstances. Furthermore, you have the right to log a complaint with the competent supervising agency.
Please do not hesitate to contact us at any time if you have questions about this or any other data protection related issues.
2. Hosting
We are hosting the content of our website at the following provider:
External Hosting
This website is hosted externally. Personal data collected on this website are stored on the servers of the host. These may include, but are not limited to, IP addresses, contact requests, metadata and communications, contract information, contact information, names, web page access, and other data generated through a web site.
The external hosting serves the purpose of fulfilling the contract with our potential and existing customers (Art. 6(1)(b) GDPR) and in the interest of secure, fast, and efficient provision of our online services by a professional provider (Art. 6(1)(f) GDPR). If appropriate consent has been obtained, the processing is carried out exclusively on the basis of Art. 6 (1)(a) GDPR and § 25 (1) TTDSG, insofar the consent includes the storage of cookies or the access to information in the user's end device (e.g., device fingerprinting) within the meaning of the TTDSG. This consent can be revoked at any time.
Our host(s) will only process your data to the extent necessary to fulfil its performance obligations and to follow our instructions with respect to such data.
We are using the following host(s):
IONOS SE
Elgendorfer Str. 57
56410 Montabaur
Data processing
We have concluded a data processing agreement (DPA) for the use of the above-mentioned service. This is a contract mandated by data privacy laws that guarantees that they process personal data of our website visitors only based on our instructions and in compliance with the GDPR.
3. General information and mandatory information
Data protection
The operators of this website and its pages take the protection of your personal data very seriously. Hence, we handle your personal data as confidential information and in compliance with the statutory data protection regulations and this Data Protection Declaration.
Whenever you use this website, a variety of personal information will be collected. Personal data comprises data that can be used to personally identify you. This Data Protection Declaration explains which data we collect as well as the purposes we use this data for. It also explains how, and for which purpose the information is collected.
We herewith advise you that the transmission of data via the Internet (i.e., through e-mail communications) may be prone to security gaps. It is not possible to completely protect data against third-party access.
Information about the responsible party (referred to as the "controller" in the GDPR)
The data processing controller on this website is:
ORO-Produkte Marketing
International GmbH
Im Hengstfeld 47
D-32657 Lemgo
Phone: +49 5261 28893-0
E-mail: info [at] oro-marketing.de
The controller is the natural person or legal entity that single-handedly or jointly with others makes decisions as to the purposes of and resources for the processing of personal data (e.g., names, e-mail addresses, etc.).
Storage duration
Unless a more specific storage period has been specified in this privacy policy, your personal data will remain with us until the purpose for which it was collected no longer applies. If you assert a justified request for deletion or revoke your consent to data processing, your data will be deleted, unless we have other legally permissible reasons for storing your personal data (e.g., tax or commercial law retention periods); in the latter case, the deletion will take place after these reasons cease to apply.
General information on the legal basis for the data processing on this website
If you have consented to data processing, we process your personal data on the basis of Art. 6(1)(a) GDPR or Art. 9 (2)(a) GDPR, if special categories of data are processed according to Art. 9 (1) DSGVO. In the case of explicit consent to the transfer of personal data to third countries, the data processing is also based on Art. 49 (1)(a) GDPR. If you have consented to the storage of cookies or to the access to information in your end device (e.g., via device fingerprinting), the data processing is additionally based on § 25 (1) TTDSG. The consent can be revoked at any time. If your data is required for the fulfillment of a contract or for the implementation of pre-contractual measures, we process your data on the basis of Art. 6(1)(b) GDPR. Furthermore, if your data is required for the fulfillment of a legal obligation, we process it on the basis of Art. 6(1)(c) GDPR. Furthermore, the data processing may be carried out on the basis of our legitimate interest according to Art. 6(1)(f) GDPR. Information on the relevant legal basis in each individual case is provided in the following paragraphs of this privacy policy.
Revocation of your consent to the processing of data
A wide range of data processing transactions are possible only subject to your express consent. You can also revoke at any time any consent you have already given us. This shall be without prejudice to the lawfulness of any data collection that occurred prior to your revocation.
Right to object to the collection of data in special cases; right to object to direct advertising (Art. 21 GDPR)
IN THE EVENT THAT DATA ARE PROCESSED ON THE BASIS OF ART. 6(1)(E) OR (F) GDPR, YOU HAVE THE RIGHT TO AT ANY TIME OBJECT TO THE PROCESSING OF YOUR PERSONAL DATA BASED ON GROUNDS ARISING FROM YOUR UNIQUE SITUATION. THIS ALSO APPLIES TO ANY PROFILING BASED ON THESE PROVISIONS. TO DETERMINE THE LEGAL BASIS, ON WHICH ANY PROCESSING OF DATA IS BASED, PLEASE CONSULT THIS DATA PROTECTION DECLARATION. IF YOU LOG AN OBJECTION, WE WILL NO LONGER PROCESS YOUR AFFECTED PERSONAL DATA, UNLESS WE ARE IN A POSITION TO PRESENT COMPELLING PROTECTION WORTHY GROUNDS FOR THE PROCESSING OF YOUR DATA, THAT OUTWEIGH YOUR INTERESTS, RIGHTS AND FREEDOMS OR IF THE PURPOSE OF THE PROCESSING IS THE CLAIMING, EXERCISING OR DEFENCE OF LEGAL ENTITLEMENTS (OBJECTION PURSUANT TO ART. 21(1) GDPR).
IF YOUR PERSONAL DATA IS BEING PROCESSED IN ORDER TO ENGAGE IN DIRECT ADVERTISING, YOU HAVE THE RIGHT TO OBJECT TO THE PROCESSING OF YOUR AFFECTED PERSONAL DATA FOR THE PURPOSES OF SUCH ADVERTISING AT ANY TIME. THIS ALSO APPLIES TO PROFILING TO THE EXTENT THAT IT IS AFFILIATED WITH SUCH DIRECT ADVERTISING. IF YOU OBJECT, YOUR PERSONAL DATA WILL SUBSEQUENTLY NO LONGER BE USED FOR DIRECT ADVERTISING PURPOSES (OBJECTION PURSUANT TO ART. 21(2) GDPR).
Right to log a complaint with the competent supervisory agency
In the event of violations of the GDPR, data subjects are entitled to log a complaint with a supervisory agency, in particular in the member state where they usually maintain their domicile, place of work or at the place where the alleged violation occurred. The right to log a complaint is in effect regardless of any other administrative or court proceedings available as legal recourses.
Right to data portability
You have the right to demand that we hand over any data we automatically process on the basis of your consent or in order to fulfil a contract be handed over to you or a third party in a commonly used, machine readable format. If you should demand the direct transfer of the data to another controller, this will be done only if it is technically feasible.
Information about, rectification and eradication of data
Within the scope of the applicable statutory provisions, you have the right to at any time demand information about your archived personal data, their source and recipients as well as the purpose of the processing of your data. You may also have a right to have your data rectified or eradicated. If you have questions about this subject matter or any other questions about personal data, please do not hesitate to contact us at any time.
Right to demand processing restrictions
You have the right to demand the imposition of restrictions as far as the processing of your personal data is concerned. To do so, you may contact us at any time. The right to demand restriction of processing applies in the following cases:
In the event that you should dispute the correctness of your data archived by us, we will usually need some time to verify this claim. During the time that this investigation is ongoing, you have the right to demand that we restrict the processing of your personal data.
If the processing of your personal data was/is conducted in an unlawful manner, you have the option to demand the restriction of the processing of your data in lieu of demanding the eradication of this data.
If we do not need your personal data any longer and you need it to exercise, defend or claim legal entitlements, you have the right to demand the restriction of the processing of your personal data instead of its eradication.
If you have raised an objection pursuant to Art. 21(1) GDPR, your rights and our rights will have to be weighed against each other. As long as it has not been determined whose interests prevail, you have the right to demand a restriction of the processing of your personal data.
If you have restricted the processing of your personal data, these data – with the exception of their archiving – may be processed only subject to your consent or to claim, exercise or defend legal entitlements or to protect the rights of other natural persons or legal entities or for important public interest reasons cited by the European Union or a member state of the EU.
SSL and/or TLS encryption
For security reasons and to protect the transmission of confidential content, such as purchase orders or inquiries you submit to us as the website operator, this website uses either an SSL or a TLS encryption program. You can recognize an encrypted connection by checking whether the address line of the browser switches from "http://" to "https://" and also by the appearance of the lock icon in the browser line.
If the SSL or TLS encryption is activated, data you transmit to us cannot be read by third parties.
Rejection of unsolicited e-mails
We herewith object to the use of contact information published in conjunction with the mandatory information to be provided in our Site Notice to send us promotional and information material that we have not expressly requested. The operators of this website and its pages reserve the express right to take legal action in the event of the unsolicited sending of promotional information, for instance via SPAM messages.
4. Recording of data on this website
Cookies
Our websites and pages use what the industry refers to as "cookies." Cookies are small data packages that do not cause any damage to your device. They are either stored temporarily for the duration of a session (session cookies) or they are permanently archived on your device (permanent cookies). Session cookies are automatically deleted once you terminate your visit. Permanent cookies remain archived on your device until you actively delete them, or they are automatically eradicated by your web browser.
In some cases, it is possible that third-party cookies are stored on your device once you enter our site (third-party cookies). These cookies enable you or us to take advantage of certain services offered by the third party (e.g., cookies for the processing of payment services).
Cookies have a variety of functions. Many cookies are technically essential since certain website functions would not work in the absence of the cookies (e.g., the shopping cart function or the display of videos). The purpose of other cookies may be the analysis of user patterns or the display of promotional messages.
Cookies, which are required for the performance of electronic communication transactions, or for the provision of certain functions you want to use (e.g., for the shopping cart function) or those that are necessary for the optimization (required cookies) of the website (e.g., cookies that provide measurable insights into the web audience), shall be stored on the basis of Art. 6(1)(f) GDPR, unless a different legal basis is cited. The operator of the website has a legitimate interest in the storage of required cookies to ensure the technically error free and optimized provision of the operator's services. If your consent to the storage of the cookies and similar recognition technologies has been requested, processing occurs exclusively on the basis of the consent obtained (Art. 6(1)(a) GDPR and § 25 (1) TTDSG); this consent may be revoked at any time.
You have the option to set up your browser in such a manner that you will be notified any time cookies are placed and to permit the acceptance of cookies only in specific cases. You may also exclude the acceptance of cookies in certain cases or in general or activate the delete function for the automatic eradication of cookies when the browser closes. If cookies are deactivated, the functions of this website may be limited.
In the event that third-party cookies are used or if cookies are used for analytical purposes, we will separately notify you in conjunction with this Data Protection Policy and, if applicable, ask for your consent.
Server log files
The provider of this website and its pages automatically collects and stores information in so-called server log files, which your browser communicates to us automatically. The information comprises:
The type and version of browser used
The used operating system
Referrer URL
The hostname of the accessing computer
The time of the server inquiry
The IP address
This data is not merged with other data sources.
This data is recorded on the basis of Art. 6(1)(f) GDPR. The operator of the website has a legitimate interest in the technically error free depiction and the optimization of the operator's website. In order to achieve this, server log files must be recorded.
Request by e-mail, telephone, or fax
If you contact us by e-mail, telephone or fax, your request, including all resulting personal data (name, request) will be stored and processed by us for the purpose of processing your request. We do not pass these data on without your consent.
These data are processed on the basis of Art. 6(1)(b) GDPR if your inquiry is related to the fulfillment of a contract or is required for the performance of pre-contractual measures. In all other cases, the data are processed on the basis of our legitimate interest in the effective handling of inquiries submitted to us (Art. 6(1)(f) GDPR) or on the basis of your consent (Art. 6(1)(a) GDPR) if it has been obtained; the consent can be revoked at any time.
The data sent by you to us via contact requests remain with us until you request us to delete, revoke your consent to the storage or the purpose for the data storage lapses (e.g. after completion of your request). Mandatory statutory provisions - in particular statutory retention periods - remain unaffected.
5. Custom Services
Handling applicant data
We offer website visitors the opportunity to submit job applications to us (e.g., via e-mail, via postal services on by submitting the online job application form). Below, we will brief you on the scope, purpose and use of the personal data collected from you in conjunction with the application process. We assure you that the collection, processing, and use of your data will occur in compliance with the applicable data privacy rights and all other statutory provisions and that your data will always be treated as strictly confidential.
Scope and purpose of the collection of data
If you submit a job application to us, we will process any affiliated personal data (e.g., contact and communications data, application documents, notes taken during job interviews, etc.), if they are required to make a decision concerning the establishment or an employment relationship. The legal grounds for the aforementioned are § 26 BDSG according to German Law (Negotiation of an Employment Relationship), Art. 6(1)(b) GDPR (General Contract Negotiations) and – provided you have given us your consent – Art. 6(1)(a) GDPR. You may revoke any consent given at any time. Within our company, your personal data will only be shared with individuals who are involved in the processing of your job application.
If your job application should result in your recruitment, the data you have submitted will be archived on the grounds of § 26 BDSG and Art. 6(1)(b) GDPR for the purpose of implementing the employment relationship in our data processing system.
Data Archiving Period
If we are unable to make you a job offer or you reject a job offer or withdraw your application, we reserve the right to retain the data you have submitted on the basis of our legitimate interests (Art. 6(1)(f) GDPR) for up to 6 months from the end of the application procedure (rejection or withdrawal of the application). Afterwards the data will be deleted, and the physical application documents will be destroyed. The storage serves in particular as evidence in the event of a legal dispute. If it is evident that the data will be required after the expiry of the 6-month period (e.g., due to an impending or pending legal dispute), deletion will only take place when the purpose for further storage no longer applies.
Longer storage may also take place if you have given your agreement (Article 6(1)(a) GDPR) or if statutory data retention requirements preclude the deletion.